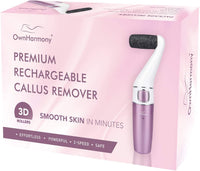 Meet the Next Generation of Own Harmony Callus Removers
With 360 Degree Flexibility and its Light, Compact and Easy to Hold Design, the all new 2020 Own Harmony Callus Removers Delivers Exceptionally Smooth Skin and Pretty Comfy Feet. Now with FAST 2 Hour Charging And Long Lasting Power!
Buy Now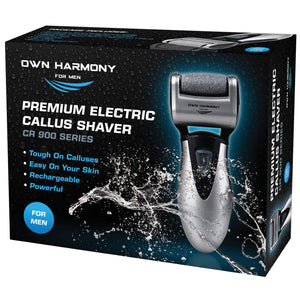 Voted the #1 Electric Callus Remover by Ask Men Magazine!
Tired of grinding your feet with pumice stone, grinder, sander, and grater-like tools? With this electric callous remover kit watch years of callused, dry, hard skin and cracked heels give way to smooth Happy Feet in minutes.
Buy Now
Our Most Popular Model
Rated the #1 Electric Callus Remover by New York Magazine, our classic CR900 Model is perfect for frequent use or last minute touch-ups so you can always be your best self for every occasion.
Buy Now
Bare your nails and heels with confidence!
Enjoy quick, effective and safe toenail & manicure care at home and on the go with our 4-in-1 Electric Nail File Kit & Callus Remover. Just slip your electric nail buffer in your purse and never worry about pesky chipped nails again!
Buy Now
I still can't believe it...no more expensive pedicures or lotions or gadgets for me....I am sooo thrilled!
Monthly pedicures aren't in MY budget so I found this callus remover and I have been in PEDI HEAVEN since! After the first use, I could definitely tell a difference.
I was so impressed with how much skin came off! My hubby tells me he might actually touch my feet now too :)